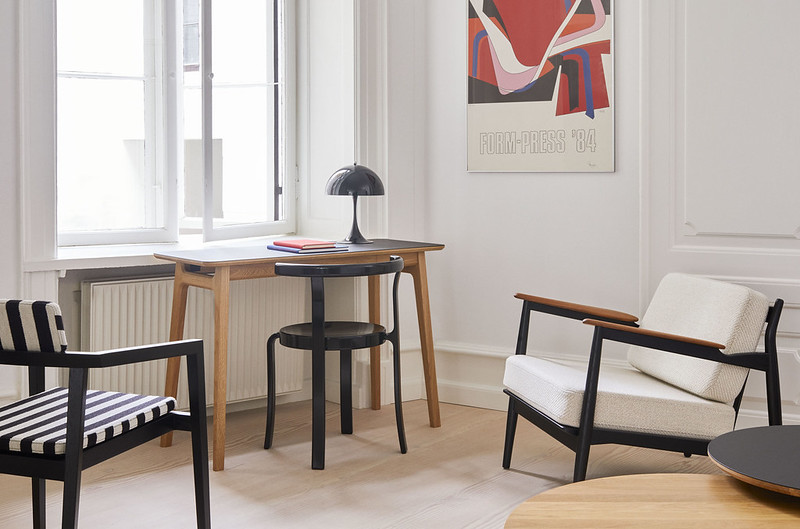 Magnus Olesen A/S develops and manufactures high quality furniture in cooperation with today's leading designers and architects. The result is a functional, aesthetic and unique design that enhances the spaces where it's placed – whether it's in smaller interiors or for large conceptual architectural purposes.
The company was founded in 1937 with a strong believe in Danish craftsmanship ever since. It is today a well-reputed furniture company, developing and manufacturing functional design furniture of high quality and durability.
Durability and quality are core values in Magnus Olesen A/S. Our mission is to create high quality, sustainable design furniture, matching the needs and demands of our customers.
Magnus Olesen has always been focused on longevity and sustainability. The company has its production in Durup, Denmark. The Showroom of Magnus Olesen is placed in beautiful surroundings in Copenhagen.
Magnus Olesen is a well-established design furniture company. It has its design roots in Danish Modern of the 1950s and has developed with time ever since.
Since its founding it has always worked with well-respected designers, such as Ib Kofod-Larsen, Kai Kristiansen, Rud Thygesen & Johnny Sørensen, Niels Gammelgaard, Busk + Hertzog and lately also Strand+Hvass and SaysWho – always remaining true to its design roots but still keeping up with the developments of time. Due to its design history, Magnus Olesen A/S has built an extensive portfolio of both Danish classics as well as contemporary designs.
Today, the designs can be seen in a multitude of architectural projects on the contract market as well as in private homes.